Description
If you want an ice cream scoop that easily scoops the hardest of ice cream, you are in the right place. This scoop really is the best ice cream scoop you will ever own.
The scoop is not fancy. It just works. Children, women, and men will all pick this scoop when they are dishing up ice cream.
Most people have several ice cream scoops in their utensil drawer. This will be the only one you ever need, and is built to last many years.
Buy them for gifts. The recipient will think fondly of you each time they use it.
This WILL be the last ice cream spoon you will ever buy. It is built to last a lifetime. You will love it!!!
Heavy stainless steel
Wooden Handle
Brass rivets
Proudly made in the USA
World's Best Ice Cream Scoop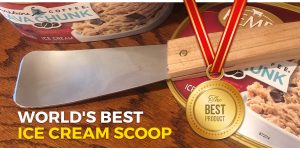 World's best ice cream scoop dishes up hard ice cream with ease.
Product In-Stock: InStock